It seems pallets are taking the design world over.  I can't visit Pinterest without stumbling upon a new pallet project.  It's huge, crazy huge!  It blows me away when I see the awesome projects that started out as a pallet.  But, how do you know if a pallet is safe to re-use?  After spending hours working on your projects you want them to be safe. 
Companies are now required to stamp each pallet with the IPPC logo which contains the important production information.  
The top letters, US, indicate the country where the pallet was produced.  This stamp shows the pallet was created in the United States.
The code below the country code,  indicates the unique company code assigned by the National Plant Protection Organization.  Each pallet producing company has their own code.
The last code is the most important.  This pallet stamp shows the letter "HT".   HT means the pallet is heat treated.  Heat treated pallets are same to re-use.  The heat treatment uses a kiln to heat the wood to treat the wood instead of using chemicals.
If the pallet has the letters "MB", this means the pallet was treated using Methyl Bromide.  Methyl Bromide is used to chemically treat wood.  This kind of treatment is unsafe to re-use  and you should use caution when handling the pallet.
Another thing to keep in mind, you should also keep an eye out of signs of spillage.  If you notice greasy or other matter on the pallet you might want to proceed with caution.   Pallets are used to ship various items and can cause a threat if a product would leak onto the shipping pallet.   Examine pallet closely for any indication of contamination.
My best advice is to use common sence when selecting pallets for your projects.  It's best to play it safe then take  a risk.
Thanks for stopping by and keep on creating.
Featured: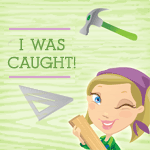 My Repurposed Life
Sharing with: Carolyn's Homework, Sugarbee Crafts, Our Table for Seven, VMG206,  The Recipe Critic, A to Zebra Creations, It's a VOL, Cozy Little House, Elisabeth and Co, Vintage Zest, Funky Polka Dot Giraffe, A Stroll Thru Life, Coastal Charm, A Bowl Full of Lemons, Kathe with an E, Someday Crafts, SNAP, Family Home and Life, DIY by Design, Housewives of Riverton, Adorned from Above, Gingersnap Crafts, City Farmhouse, Lady Behind the Curtain, JAQ Studio, My Girlish Whims, A Creative Princess, Share Your Cup, A Glimpse Inside, Moonlight & Mason Jars, The Life of Jennifer Dawn, A Delightsome Life, From my Front Porch to Yours, Live Laugh Rowe, Made in a Day, My Repurposed Life, Redoux Interiors, Craftberry Bush, Answer is Chocolate, 36th Avenue, 504 Main, Serenity Now, I Heart Naptime, Bacon Time with the Hungry Hypo, The Cottage market, Shabby Nest, Romantic Home, French Country, Common Ground, I Gotta Create, Shabby Art Boutique, What About, Be Different Act Normal